Who is Coyote Jack?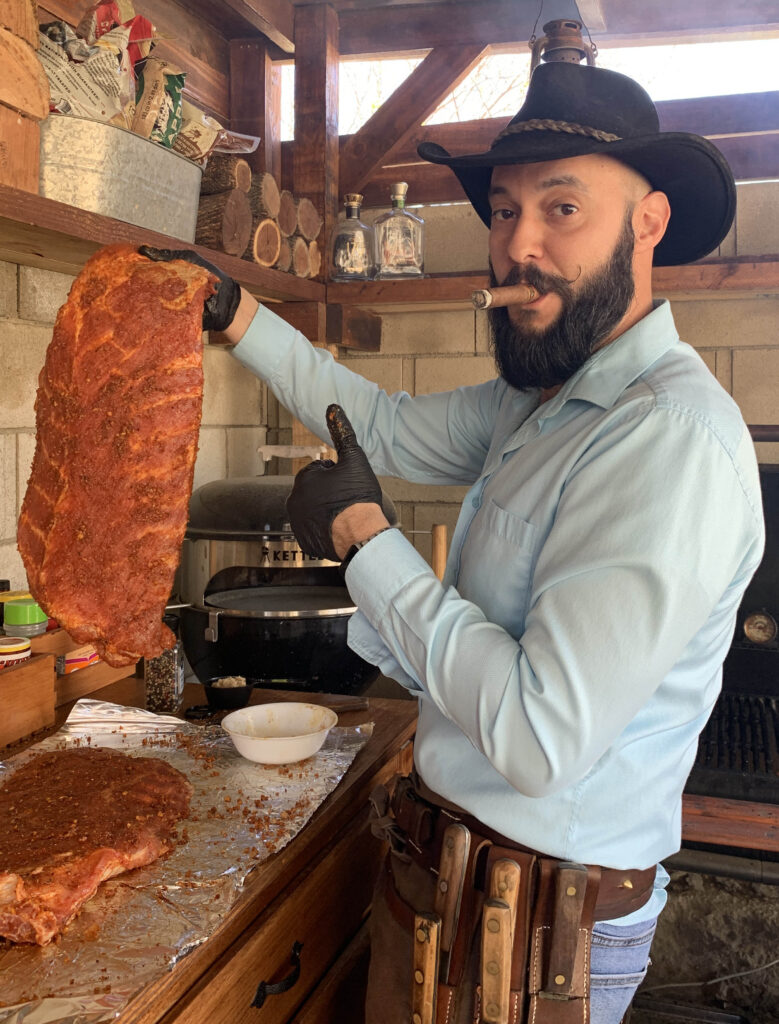 Greetings! Jack Venturo Here! I have been grilling and cooking since 2007 and have loved the hobby and community that comes with outdoor cooking, finding new recipes, flavors and techniques is so much fun. I am a multiple award winning artist and filmmaker who loves to grill and cook and smoke. In 2020 I decided what better way to share all of my love and passion for BBQ than to film it and upload it for you to enjoy and be entertained. I added a puppet for a little fresh flavor as well. Start the smokes!
Jack's Mini Blurb…
I am a multiple award winning filmmaker who loves to watch, discuss, and make movies. I'm an artist & toy customizer who specializes in building dioramas. I'm also a puppeteer and Freddy Krueger cosplayer, a voice over performer, distiller, adventurer & BBQ Pit Master.
I adore dating my wife, singing and dancing with my five daughters, and rolling on the floor with my cat and dog. I'm quite fond of food, tea, coffee, cigars, pipes, wines & spirits, and I am pretty good at playing checkers.
Jack's Full Bio
Jack Venturo was born in Lima, Peru on January 9, 1981. He came to the United States on March 13, 1990. Spending two months in New York before settling in Miami, Florida. Hurricane Andrew struck in 1992 and Jack then settled in St. Petersburg, Florida where he was accepted in The Pinellas County Center for the Arts (P.C.C.A) at Gibbs High School in 1996 as a Visual Artist.
While in P.C.C.A. he pursued a wide range of visual arts including photography, oil painting, welding, sketching, design, sculpture art history and film history.
An interest in puppeteering led Jack to create his puppet, Stanley who quickly became very popular and inspired him to write a full three-part screenplay about the puppet. He then created his first film, "Natural Born Stanley" which was released on December 19, 1997. Jack went on to build two more puppets Seally and Eddie and with them came the much-anticipated sequel "Stanley 2 – The Legacy" on February 13, 1999.
Jack continued his sculptures, painting and artwork and held an art exhibition in March of 2000, entitled "Fear", which dealt with horror and its portrayal in motion pictures.
He quickly moved on to the next project, writing and directing his third film "Lost in the Wilderness" which opened on June 22, 2000 at the Film Paradiso Beach Theatre in St. Pete Beach, Florida. The premiere was an undisputed success, with lines forming around the theatre, it was sold out opening night.
He was a full-time high school student at Gibbs and a part time cameraman and floor director at The Home Shopping Network. He graduated high school in June of 2000 with artistic honors but without a High School Diploma, he had difficulty taking the final exit exam and attempted to pass it seven times before the year was over, he was given a certificate of completion and was allowed to walk with his classmates.
On December 24, 2000 he packed up everything he owned, took a seven-day road trip and moved to Los Angeles, CA. He spent the first several years learning the ropes and finding odd jobs as a production assistant and a temp.
Jack's 4th film, entitled "The Shortest Day" was released on August 12, 2003. It was the most nominated and most awarded movie at The 2003 Circle of Excellence Film Festival Archie Awards. The awards ceremony was held at the Colony Theatre in Burbank, California. It was nominated for four Archie Awards, of which it won three:
Best Director – Jack Venturo
Best Screenplay – Jack Venturo
Best Actor – Chris Pagano
Best Film (Nominated)
Jack created www.Jackorama.com in 2004 which is a portfolio of all his art. In December of that year Jack was working in Simi Valley where he met Eydie, they quickly became great friends. Eydie and Jack started dating October of 2006.
Jack became a set intern for Shadow Machine Films in 2007, building miniature sets and props for "Robot Chicken" on Cartoon Network's [adult swim].
In August of 2007 Jack became a citizen of The United States of America, being sworn in at the Staples Center in Downtown Los Angeles. In September Jack and Eydie discovered they were pregnant with their first child, and 9 months later on May 29, 2008 at 4:35 PM they welcomed their daughter Athena Phoenix Venturo into the world. She weighed 8lbs 5oz and measured 20 inches long. Athena is Eydie's 4th and Jack's 1st daughter.
On September 1, 2009 Jack and Eydie got married in a small private ceremony in Ventura County.
Jack's 5th movie "The Death of Tempo" began production in 2008 and was released on January 1st, 2010.
The film was accepted into the Crystal Palace International Film Festival in London and got nominated as a finalist and a special transmitter award.
The movie was also accepted into the 10 Squared Film Festival in Fullerton, CA where it won:
1st Place Jury Award (Panel of judges included a film critic for the L.A Times)
Best Picture – 1st Place People's Choice (After watching all 10 films the audience chose the movie as their favorite)
Finalist (Nominated) Crystal Palace International Film Festival
Transmitter Award (Runner Up) Crystal Palace International Film Festival
Jackorama premiered for the first time to the public as a whole entity at DesignerCon in November 2011 at the Pasadena Convention Center.
In February of 2012 Jack and Eydie found out they are pregnant with their second child and 9 months later on November 28th, 2012 at 4:17 AM they welcomed their daughter Vivian Jade Venturo into the world. She weighed 8lbs 6oz and measured 21 inches long. Vivian is Eydie's 5th and Jack's 2nd daughter.
Also in February of 2012 Jack's father gifted him an antique copper Alambique, taught him everything there is to know about distilling, wine blending and the history of Jack's grandfather Pedro Venturo Zapata and all of his work at the Hacienda Higuereta before it was destroyed in the late 60's inspiring jack to create "Venturo Spirits".
In 2014 Jack decided to earn his High School Diploma. He went to the Antelope Valley Adult School in Lancaster and signed up to an Algebra course and a test prep class. He hired a math tutor and went to night school every week. He took the final exit exam once more time and passed on the first attempt. In May of 2015 Jack graduated again, wearing blue once more but this time with a real diploma.
While scrolling through Facebook one day Jack came across a post from The Jim Henson Company stating they were looking for new puppeteers to join their crew and attend an eight week puppeteer workshop, Jack filmed an audition video of himself performing his puppets Stanley, Seally and Eddie and a week later he was invited to audition with more than 200 other candidates in front of Brian Henson, Patrick Bristow, Kevin Clash, and Allan Trautman. He got the callback and in the summer of 2015 Jack and thirty other puppeteers worked once a week at The Jim Henson Studios training in Improv and the Henson puppetry technique.
On January 23rd 2016 Jack released his 6th movie. A Short titled "The Date" about a man who brings a woman home on a date to his apartment full of puppets.
Jack got the puppeteering bug again and he decided to audition for a project for Disney. He got the part and on April 1st, 2016 he worked as a puppeteer for their Disney Interactive YouTube Channel "Disney's Tsum Tsum Kingdom".
On August 1st, 2016 Jack officially became a member of the Los Angeles Guild of Puppetry.
The Jim Henson Company held a Fan Film Competition for "The Dark Crystal" in early 2016. Jack designed and built three puppets from scratch including a replica of the Skeksis Chamberlain from the film. With the help of Eydie operating the camera they set off into the woods and filmed a 5 minute short in which Jack performed and voiced all three puppets. He edited the film and submitted it.
His 7th movie "Akasta: The Salvation of Thra" was released on May 2nd, 2016 and was distributed by The Jim Henson Company on their YouTube channel. The film was one of 29 films entered. It did not win the grand prize title but it did win:
Runner Up #2 (5 Runner up films were personally selected by Brian Henson, Cheryl Henson and Blanca Lista)
Cheryl Henson personally sent a photo from the film and a signed letter from the Jim Henson Archives. Cheryl is quoted in the official Dark Crystal website…
"I love this film! I imagine it being shot out on the empty desert plain and by the stream in a forest glade. Wonderful puppets. The rock and the bark creatures are inventive and well performed. Their integration into the environment is very well done. Nice story with a clever twist at the end."
– Cheryl Henson – 2016
In late 2016 Jack and his friends Ben Goretsky and George Gaspar decided to create a weekly YouTube web series that would be filmed at Ben's toy store 3DRetro in Glendale, they would have guest hosts, guest artists and talk all things art, toys, apparel, plush, events and more. The show "Toy Geeks: Behind The Counter" premiered on January 17, 2017. Jack hosted, directed, edited and produced season 1, and the beginning of season 2.
In July of 2018 Jack became a Freddy Krueger cosplayer, he debued his cosplay at San Diego Comic-Con and has been doing it at cons ever since, having fun impersonating the character and posing with fans for pictures. #KruegerJack continues to travel the conventions.
The Jim Henson Company called Jack to action for the show "Earth to Ned" in 2019 working as an additional puppeteer rotating with other puppeteers as Ned's Hands and several CLODs for Disney+.
October 2019 Jack and his father Pedro Venturo Markoch purchased a one acre parcel of land in Lancaster, CA. Named "Venturo Ranch".
In February 2020 Jack became the voice and performer for the puppet Richie Gamblé The official marketing mascot of the Tachi Palace Casino Resort.
Jack joined The Lancaster Chamber of Commerce on March 19, 2020.
While on a stay at home order because of the Covid-19 Pandemic in April 2020, many talented creatives were performing their craft from their homes. Jack decided he needed to do his part to entertain and share his craft. He wrote a short script and made an announcement on facebook for anyone who would be interested in being in the movie. the script was sent to performers, 29 people recorded themselves, sent in their files and within three days Jack edited and released his 9th film "The Connectionist" on April 30, 2020.
After a very successful IndieGoGo campaign in March, Jack began production on his 8th movie. and on October 14, 2019 "The Repossession" was complete. "The Repossession" is currently being sent to film festivals and will be released to the public on October 2020.
Jack is currently living in Lancaster, California. Working on dioramas and custom toys for Jackorama.
He is writing and developing several projects ranging from T.V. sitcoms, cartoon shows, short and feature length movie treatments for Venturo Productions.
When Jack is not working on his projects he spends time with his beloved wife Eydie and three daughters, Xochitl (2003), Athena (2008) and Vivian (2012).
Their other daughter Hali (1994) finished trade school became a hairstylist and is currently living in Florida with her boyfriend Justin.
Their other daughter Isabella (2002) is currently studying to become a pastry chef at Johnson and Wales University in Rhode Island.
To be continued…